Scorpion Convertible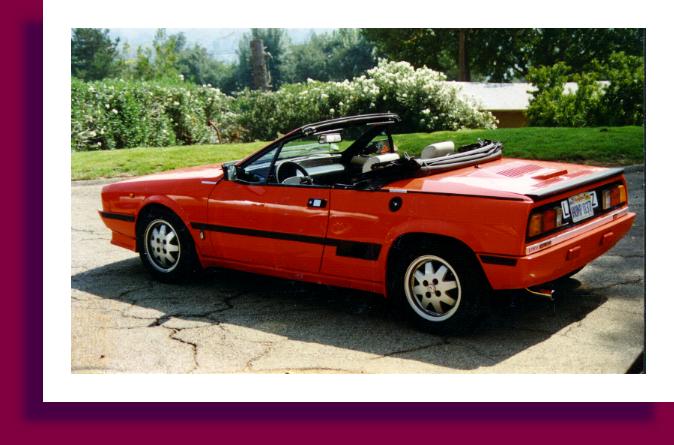 There is not much known about this very special convertible, its builders and its whereabouts. Following some ideas from other enthusiasts:
I think the Cabriolet in the Caribou catalog was the modified USA Scorpion that was around in the 1980's... He had a lot of problems with breaking crossmembers, and it used a 124 Spider top frame. Was at a West Coast Reunion in San Juan Bautista one year. I have no idea where that car is today. Chris Obert
The one in this catalog looks like an S2 Monte.
And quite the treat was the old school Caribou Imports catalogue. It has MANY pictures of Scorpions and Montes....one of which is a Montecarlo Cabriolet. Very interesting looking. This catalogue even has a listing with pictures of the famed tinted clear top for the Scorpion/Monte Spider.
Caribou is in California. The cabriolet is in Italy (at least it was 10 years ago when those catalogues were printed). I've seen the moonroof installed on Scorpions at shows and the owners of those cars did not particularly care for them (they leaked) and the quality was poor. The cabriolet photos were just used to market some Pinnin (series II) wheels and badges. Caribou never offered the softtop.
Ed, owner of Caribou Imports/Caribou Canvas specializes in convertible tops. He's also one of the biggest, if not the biggest, Scorpionisti.
The engine lid doesn't really work, it looks like the wrong shape. I think it would look better if it were changed to hinge at the firewall, and went full width, seaming up on the trim strip on either side. Having it look like a reverse trapezoid butting up to those plates that cover where the buttresses used to be is a bit funky. Just my opinionated opinion, naturally.
This is the real story from the current owner of (one of) the surviving Scorpion Convertible:
I believe this was originally a California car. I bought it from a used car lot in California end 1983.
The salesman's story on the car was the prior owner did the convertible conversion and rebuilt the engine, boring it out to 2.0 Liters. A/C and catalytic converter were removed (dealer reinstalled catalytic converter.) The X1/9 scoops were also added, along with the new door guards, and S1 side markers. The Vitaloni California mirror was replaced with a Vitaloni Pronto. Interior was changed from red to black vinyl. Someone also added Carol Shelby brand 13" wheels along the way. The seats are black with red piping, which I haven't seen in pictures of other Scorps, so this may have also occurred. The Scorpion badge in back was removed, and a "Spider 2.0" badge was put on (from an Alfa Spider) to acknowledge the spider conversion and rebuilt engine size. I don't know if the engine was really bored out, or the salesman was being, well, a used car salesman. However, the engine likely was rebuilt. I never noticed the side markers as these are in pictures of S1 Montecarlos, but now I see they are not in Scorpion pictures, so these were likely added as well. (There is some black covering material over the section of the lower quarter panels so you don't see the former holes from the original side markers/reflectors.)
I drove the car from purchase to New Years day, 1987, when someone backed into the car and broke a piece off of the nose band. I had lost the front air duct (bottom of car) and the car had begun overheating periodically (different then current overheating problem) which now I realize was probably due to less air getting to the engine (or possibly the beginnings of some other affliction). I put the car in the garage, then storage, until 1996, when I had a mechanic in Colorado get it back running. The car moved with me and my family to North Carolina, where I discovered it was overheating after a short distance. It went back in the garage until the move in 2005 to Florida and my recent renewed interest to get it back on the road. It has been garaged or covered since I bought it and is rust free. That's the story (and I am sticking to it). Ken
© Arnoud Coenen, NL. June 2007